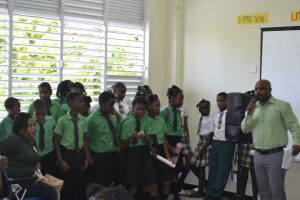 Assistant Chief Youth Development Officer, Gregory 'Karessah' Riviere is encouraging young people to use agriculture as a means to eradicating hunger.
He addressed an audience of mostly 4-H Club members from across Dominica at a World Food Day observance on Friday at Newtown Primary School. The theme for the year 2018 is 'Our actions are our future. A zero hunger world is possible by 2030'.
The event was organized by Junior Achievement Dominica (JA Dominica), Youth Development Division's 4-H program and the Ministry of Agriculture's World Food Day Committee.
It also included the launch of its agriculture based 'Grow Project' aimed at involving students in agriculture and an exhibition featuring various agricultural produce.
Riviere said some statistics show eight hundred and forty two million people or about twelve percent of the world's population is suffering from hunger. He went on to say what is worse is that nine million people are dying every year due to hunger and mostly women are affected.
"We really have to try our best to eliminate hunger in our community", he said.
Riviere advised the students of three ways they can play part to eradicate hunger.
One way was to grow more food than they are individually consuming. The other ways are to give thanks for being able to consume nutritious foods and share food with others.
The event also heard from Executive Director of Junior Achievement Dominica, Rhanda Alexander-Alfred and Coordinator of the Youth Development Division's 4-H Program, Shirley Alexander.